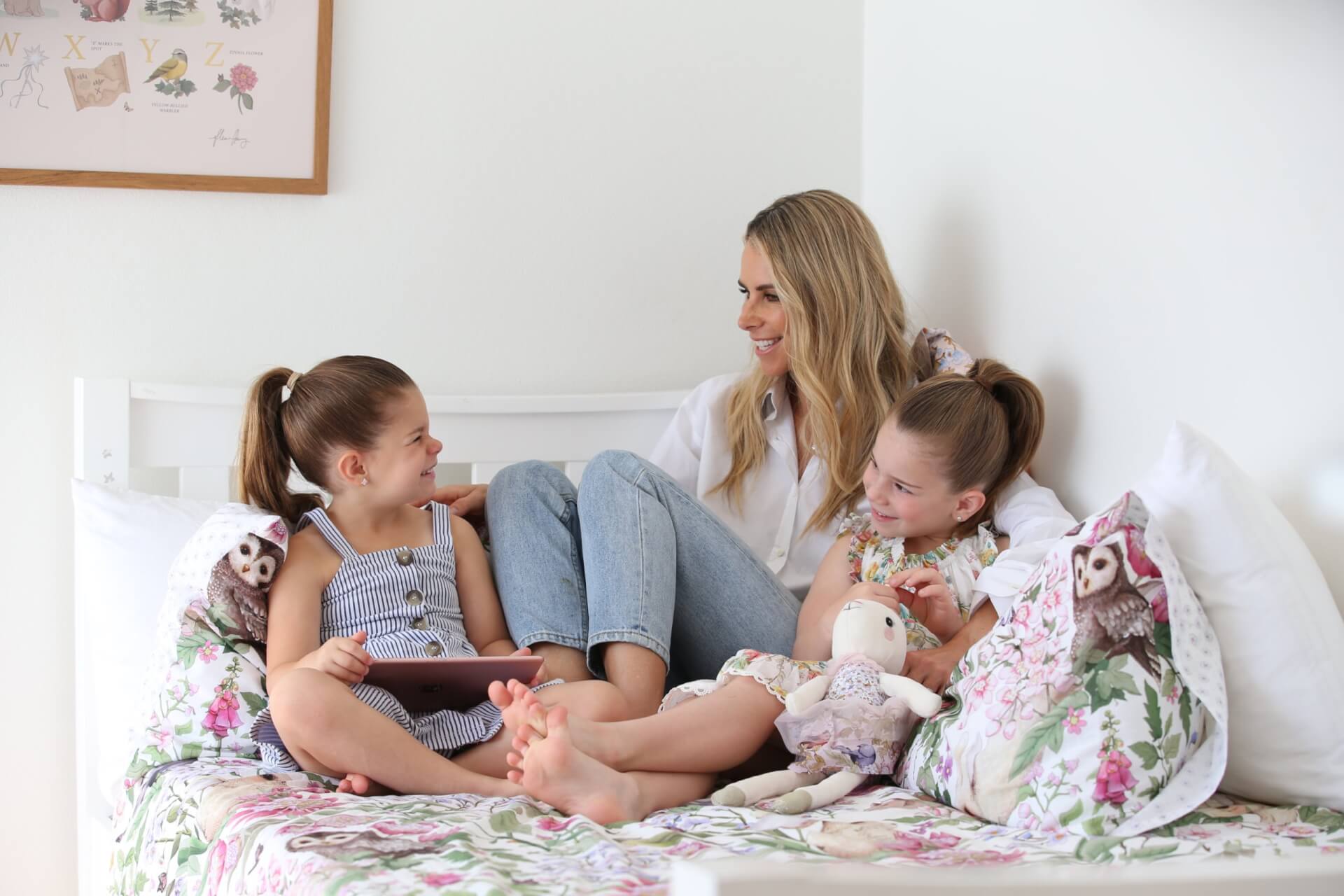 One of the biggest curveballs 2020 threw our way was the unchartered territory of home schooling kids whilst trying to work from home. Here, former Ironwoman and mum of three, Candice Warner, chats with Mindful Parenting on coping with the challenges of a tough year.
So, Candice, you're a mum to three girls, Ivy, 6, Indi, 5, and Isla, 18 months, and married to cricket star David Warner. How did you all go during the 2020 lockdown and what do you enjoy doing together as a family?
As a family, we actually had a lot of fun and spent some real quality time together, as David wasn't able to travel with cricket. We did a lot of learning and having fun, like movie nights. We enjoyed days and nights that we don't usually get to spend together. The girls are already into cricket – they love batting balls with us in the back yard. However, it was tiring at times. My oldest girls share a bedroom and there were times that they bickered!
Was home schooling tough? Be honest!
It was challenging, but I had to make it work. Particularly Ivy, who'd started kindy and was learning to read and write – I tried to give her as much attention as I could. However, a few years ago, she and Indi started using an app called ABC Reading Eggs, so that made my job as a mum and makeshift teacher easier. It gave me peace of mind that she was doing something educational while having fun. So, as it teaches reading skills such as phonics through animated games and songs, they love it when they finish a game, and a character called Sam the Ant comes on. They'll sing along with him and like the reward of extra games It gives them a sense of accomplishment, and that's exciting for them.
Why was developing reading skills in your girls important to you during this time?
My girls have always had a keen interest in books. Either David or myself read a story to the girls every night and they take turns choosing the book. So, it's always been really important to us as a family that we create good learning habits early on. I'm a big believer in the importance of developing reading skills from a young age, but it still needs to be fun while they're learning – kids still need to be kids! The app has been unreal for my girls.
How did you come across the app?
A friend of mine told me about it a few years ago and it's been a lifesaver ever since. As we travel a lot, I've always lugged a lot of books around. After a while, the girls got bored as they'd read everything. Once I discovered ABC Reading Eggs, I didn't have to travel with such a large heap of heavy books as the app has access to an online library as well.
Did you find having to be both Mum and teacher stressful? How do you like to unwind?
It was actually fine. I exercise about three days a week in the gym and also now like to exercise if I'm stressed out. I'll go for a walk or jog, which is what I did when the gyms were shut – that gives me time to switch off. As a mum, I'm not as harsh on myself in regard to my body as I once was. When you're younger, you really want to look a certain way. Now I appreciate my body for what it can do and what it's been through! You learn to love yourself a bit more.
I've always done a lot of cardio, but last year introduced more strength training in the gym. I really enjoyed that – hitting little milestones with the weights. Our eating as a family is very balanced – just wholesome and healthy. I guess I'm no different to anyone else – I like things like chicken schnitzels and salads, or chicken wraps. I'm not the best cook, so I just keep it simple and colourful.
Excessive screen time often gets a bad rap – what are your thoughts on that?
I definitely think kids spend too much time on screens in general, but devices are now a fact of life and here to stay. So, when my kids use an educational app, it's peace of mind knowing that they're not just watching YouTube videos. When they're learning to read, I don't have a problem with them using their devices if they're on a reading app, particularly if I have to get dinner ready, change a nappy or run a bath.
Will 2021 be a little less challenging for you?
I'm not sure about that! This year is actually going to be very challenging. It will involve a lot of time for myself and girls. It looks like David will be away on tour for a minimum of seven months from the end of February until September, potentially even November. Unless laws change, we won't be able to visit him. I know it's going to be important for me to find balance. I don't want things to get tough and then take it out on the girls, as that's really unfair. I'll be continuing to exercise and do some work while spending time with the girls. In winter, it would also be nice to go away somewhere accessible that is nice and warm. We'll see.
Visit ABC Reading Eggs to sign up for a free 30-day trial.