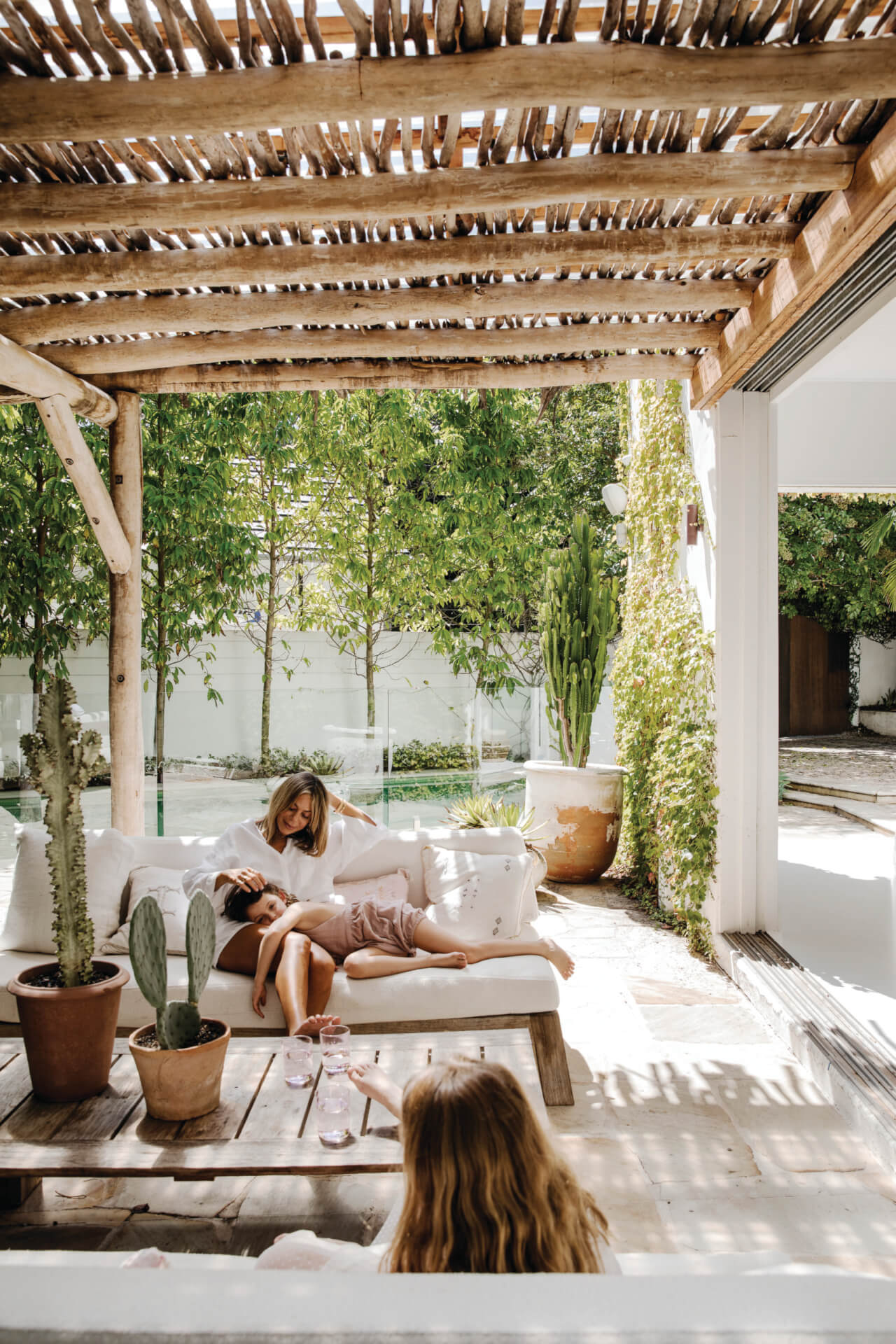 There is no one way to embrace slow living. And although everyone's journey is different, home is at the heart of everyone's story.
We are at the threshold of a defining point in our culture and society. We are consuming at a greater rate than at any other time in history. But with this privilege comes responsibility. And although we can't always control governments or politicians, industry or big business, we can take responsibility for the choices we make within our own lives. This can begin today, right now. And there is no easier place to start than at home.
COMING HOME
How have we become such voracious consumers? And not just of stuff. Our lives are full to bursting. We spend our days in perpetual motion, chasing lists, deadlines and dreams, and our own expectations.
Our homes are filled with objects we have long since forgotten, and our cupboards crammed with gadgets and homewares that were supposed to save us time or improve our lives. While we may be moving to more ethical brands – a burgeoning industry of its own – consuming less remains a more sustainable choice. What we buy for our children is part of the problem too; they have more clothes, toys and books, as well as busyness built into their days, than any previous generation.
We have fallen into a trap of focusing on what we perceive is missing from our lives. We spend our days chasing an ideal. Is it any wonder we feel exhausted and overwhelmed, with no energy to consider a different way? Do we really believe that busy is better? That more means more? And, conversely, do we think that less means less? Fewer choices, fewer experiences and, perhaps worst of all, that we are less? Less than whom?
THE PERFECT PRESENT
What we want is right here. Being present, and aware of how we are living our lives, can help us to make more conscious and informed choices. Living mindfully can also help us to reclaim our life in a way that no consumer good ever could. This moment is the future of what we desired yesterday, last month and last year. And we only ever have this moment to live. The past has already gone and the future is not yet here. However, being present doesn't mean we can't move forward or reach goals.
Living mindfully is a central tenet of the slow philosophy, which encourages SLOW – Sustainable, Local, Organic, Whole – choices.
How can we make positive change in our lives? We can start by asking the right questions – which can help us consider what drives our decisions. When we have a clear understanding of our why, it is much easier to make meaningful change and stay the course.
Here we speak to Sydney-based stylist and mum of two, Romi Weinberg, who has taken steps to simplify and embrace the principles of slow living in her home.
Romi Weinberg, SYDNEY
A short walk from the water and moored boats of one of Sydney's inner harbourside suburbs is a house hidden from view. "It can't be seen from the street, which really appeals to me," says owner Romi Weinberg. "The house already felt like a sanctuary when I bought it. And it was this element that attracted me to it the most."
Romi bought the house about three years ago as a fresh start. "I find it exciting to have a new project," she says. "It was fun to consider the possibilities of a new space, and I loved everything about the creative process." Romi, who studied in fashion, didn't think she could do it all herself. But she took on the challenge anyway, and has made her home a simple, minimalistic yet elegant space – brimming with love.
Romi had known about the house for many years because her parents were close friends with the original owners. "It was always a favourite of mine," she says. "Being tucked away from the street, it felt like a little private oasis."
While the house had beautiful character, Romi wanted to adapt some of the French and Italian detailing to give the home a more contemporary Mediterranean feel. The heart of the house, the kitchen, underwent the biggest change. "The existing space was too small for me," Romi says. "I'm very passionate about cooking. Entertaining family and friends is a regular part of our lives, so having a large, central kitchen was very important."
To extend the entertaining area, Romi added an undercover space outside constructed of old timber latte sticks. And because the pantry was quite small, she created a larger walk-in cupboard under the stairs, to store her collection of chopping boards and catering provisions. "I didn't want to change the overall footprint of the house because it was perfect as is," Romi says.
To add warmth and character, Romi layered the house with thoughtful, textural elements such as weathered timber, woven baskets and large Moroccan rugs, as well as pre-loved items. "I love having beautiful objects around me," she says. "I look at them constantly and appreciate how they make me feel. It's also important for me to have a tidy, clean and organised home. I can't function in mess. I prefer everything to have a place."
The living room is where Romi unwinds in the evening. She enjoys lighting scented candles and a fire in winter. "I also love relaxing in my bedroom – it's one of my favourite rooms in the house," she says. "I have a gorgeous little balcony off it with beautiful cacti, and from my bed I can look out through the shutters to my bougainvillea and palm trees. I could be anywhere in the world. I absolutely adore it."
Family is a fundamental part of Romi's life. The rhythm of her days is based on the movements of her two daughters – Bo, 12, and Tatum, seven – and nurturing their needs. But beyond her self-contained unit, she is also part of her own extended family. Daily phone calls with her mother are a thread that weaves itself through her week. And her sister is never far away. Often they all come together, including her father and nephews, at Romi's home on a Friday evening to celebrate Shabbat, the Jewish day of rest. "It is a beautiful custom and I love hosting it at my place," Romi says.