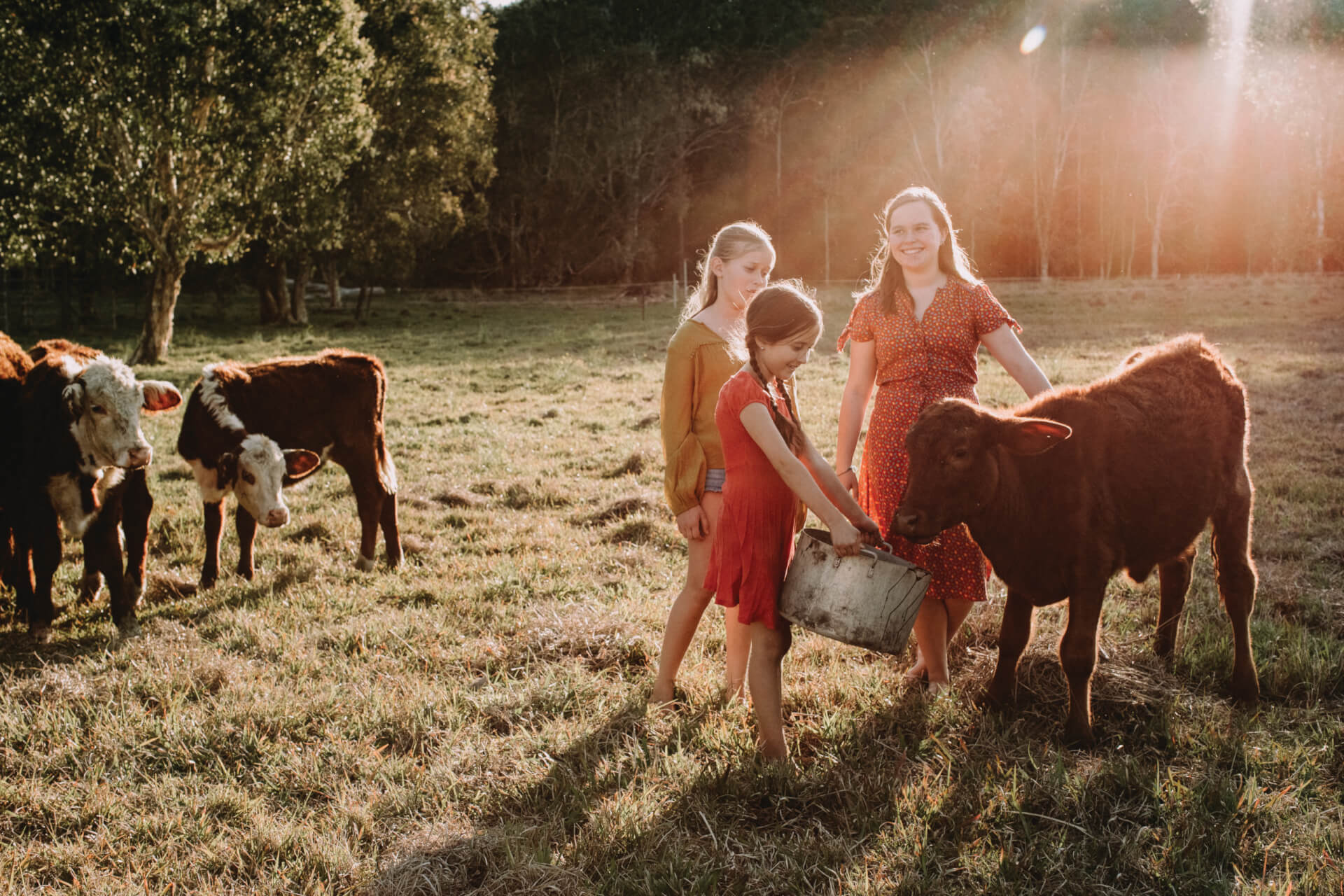 On a tea tree farm in Woodburn, Tara Luca and her family are showing us that flowers are not the only ones who flourish in a bunch.
When in need of a little extra nurturing and nourishment for the soul, Tara Luca, a sustainable flower grower, has always looked to her budding blooms. Looking back, after all she has accomplished with Olive Gap Organic Farm, Tara can see she's always looked to them for comfort and support. "I have always loved flowers," she says. "My mother and grandmother were keen gardeners and I have a lot of memories from my childhood playing among rambling roses, camelias and magnolias in the Blue Mountains."
However, it was only after studying an organic farming course at TAFE that Tara realised her love for all things floral; the passion for cultivating flowers blossomed. "I began to realise that growing them was what I really wanted to do," she says. "It was then that I stumbled upon the concept of 'slow flowers' – an umbrella term used for small scale, ecologically-minded farmers that are passionate about local, sustainable flower farming.
"I had found all of my passions combined in the one thing and was [feeling] very inspired."
When the opportunity arose to purchase the tea tree farm down the road from her home in the Northern Rivers of NSW, Tara and her husband Alex joined forces with Alex's sister Tess and her partner Nina, and became tea tree farmers. That's where Olive Gap Organic Farm started, and the family and farm continue to flourish, as the slow flower movement has more and more people making the better bloom choice.
"I've seen a considerable surge in interest for local, sustainable flowers and more growers, florists and consumers are getting on board," says Tara. She also explains the environmental issues in the conventional flower growing industry: "Once people learn that most blooms in the supermarket or florist are grown overseas, with lots of chemicals… they usually get a shock and very quickly come on board."
At the heart of everything Tara and her family do, they're concerned about our planet's future and wish to be part of a positive solution that will help generations to come. "[We] want to do the right thing for the environment. We can offer a better product – better for the Earth – and keep things local, which is good for all of us. We all need better systems that are more sustainable in every way."
The family farm specialises in traditional wood-fired, steam-distilled Australian native essential oils (mostly tea tree oil), along with seasonal cut flowers, and is run by the two couples as well as Tara and Alex's three beautiful daughters – all of whom share an equal love for working and living in harmony with the land. Having been brought up around nature and flowers, just like their mother – a love growing deeply throughout the generations – they too have developed an appreciation for farming and the beauty of slow flowers. And Tara continues to nurture this enthusiasm in her children.
"We always encourage the girls to help out in ways that they enjoy, so they often take on a particular task that they can be reasonably autonomous with," says Tara. "They all love animals. Cedar is in charge of our chickens and baby chicks, which she loves. April loves making flower arrangements with me. Olive often enjoys more homely jobs like cooking, which can be a great help."
Tara has always wanted her daughters to feel like valued contributors to the home and farm, and feel empowered to accomplish anything; a precious skill that can be applied to any aspect of life in their futures. "I love that they're learning about caring for the land and the power we each have with our own two hands," she says. "I also hope they are inspired by seeing Alex and I follow our dreams."
Tara's passions also extend beyond the farm, in home-schooling her girls and getting involved in community living, too. With no day being the same, it's important to Tara and her family that they organise their time and commitments, in and outside the farm. "As we are juggling a lot of different things," Tara explains, "we start [the morning] with a family meeting at breakfast and work out the focus of the day; if anyone is doing a class later or needs extra help with a project.
"It's a juggle for sure. We always have a few balls up in the air and at least one is always getting dropped to keep up with all the others. We just try to alternate what's being dropped and pick it up later."
There is one main thing that is most important above all, and that is family. "Putting family first is always our aim," says Tara. "Everything starts with feeling connected."
And when the sun sets and all tasks come to an end, one will often find Tara and the family relaxing and unwinding with a swim in their large creek, playing music together in the outdoors or spending time on creative projects, before heading in for the night. "I would say the evenings are more often our creative time," says Tara. "It's a great time for knitting, drawing, working on stories. We all love to read and often have a book we read out loud together before bed, or we snuggle up and read our own thing in front of the fire."
Having a lifestyle that involves a lot of time together as a family is a beautiful thing. However, being so intertwined together throughout the day, it's also important to give each other a little grace from time to time, especially when feeling drained after a hard day of work or teaching – something that Tara says her daughters encourage her to do often. "They'll remind me to take a few deep breaths, go for a walk and 'tune in' to myself," she says.
"I think all children are very wise. The girls have taught me way more than what I have taught them."
Between being a teacher, farmer and first and foremost, a mother, Tara has learnt to embrace the mantra 'I have all the time I need', which helps her to feel relaxed, centred and mindful of the task at hand. "I tend to get overwhelmed if I start thinking about the next thing all the time and tell myself I don't have 'enough time'. 'I have all the time I need' keeps me calm and feeling abundant in all things."
And there certainly is a lot that Tara is thankful for. What started as an interest as a child – playing with flowers and watching her mother and grandmother garden – has blossomed into something magical; a passion and livelihood that allows our planet and its plants to truly flourish.
The best thing is, she's doing it all with the most important people in her life: her family.
Words by Sarah Webb
To find out more about Olive Gap Organic Farm, follow @olivegapfarm on Instagram.