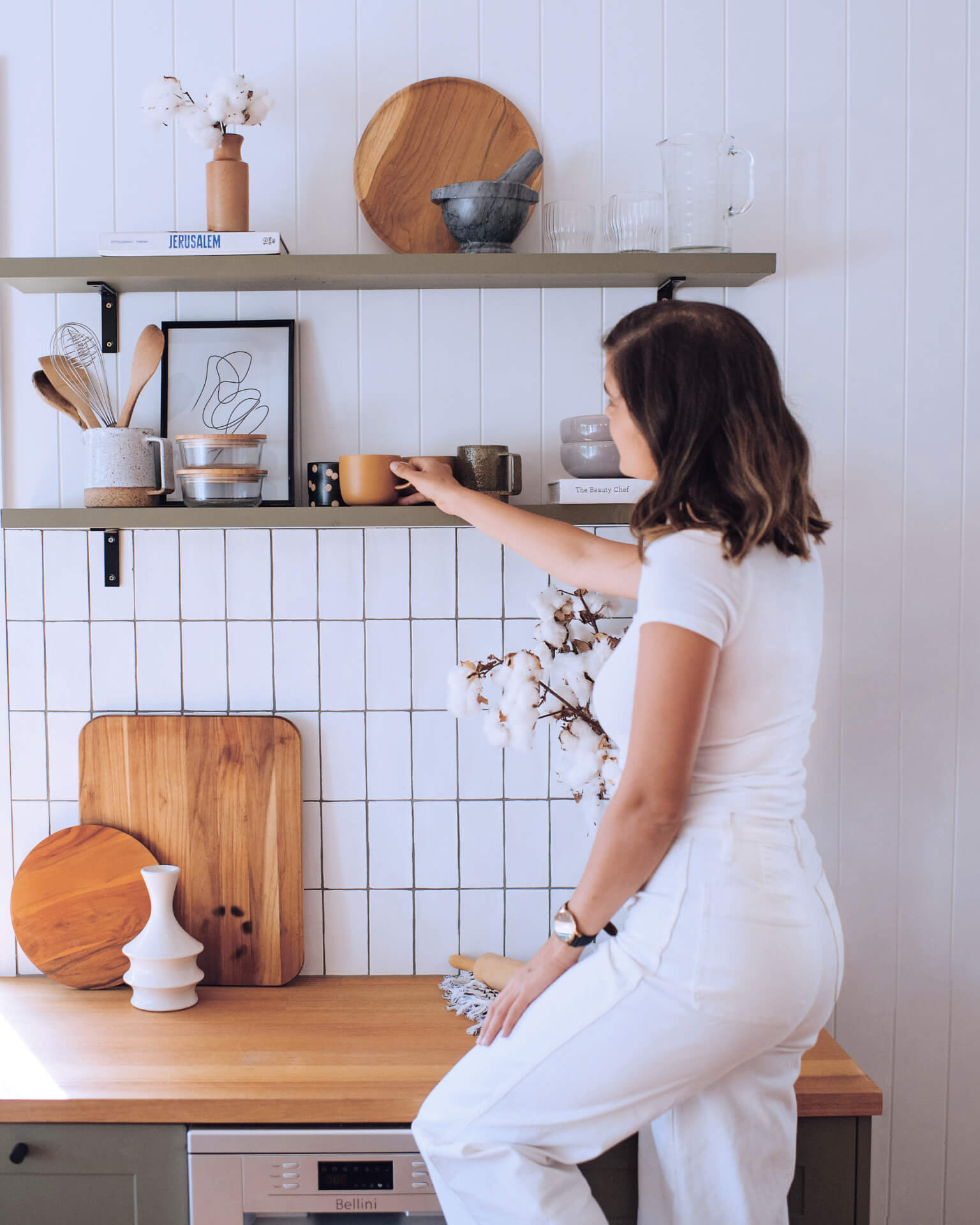 You don't need to have the perfect space to make a home that's perfect for you and your family. Because home is where you make it.
Over the last few years, and especially since having our daughter, Frankie, I've come to truly understand the concept of 'home'. Not home as a picture-perfect space filled with meticulously planned elements, but a retreat from the pace of life outside, somewhere that grounds us and makes us feel truly happy and content. I've experienced a longing to not only spend more time at home, but to make it with my own hands and style it with love, personality and imagination.
It's my belief that any space can be made into a beautiful home; not necessarily perfect, but perfect for you. Usually, all it takes is a bit of imagination, getting your hands dirty, getting creative, working with what you've got and, in the end, making your space meaningful, functional and beautiful.
Kitchen creativity
The kitchen really is the heart of the home, and it should therefore take a big focus when you're decorating. It's an important room even from a time perspective. If I were to calculate the room where I spend the most waking hours, it would have to be the kitchen. It's where we cook food for our loved ones, and make memories with friends and family around the dinner table.
Although the kitchen is sometimes seen as a purely utilitarian space, the aesthetics of your kitchen shouldn't be overlooked. Given the amount of time you spend in it, you might as well make your kitchen a place that suits your style just as much as it makes for good cooking. A great kitchen is equal parts beauty and function.
I've lived with my share of scary cooking spaces, from tiny corridor kitchens that had a 'one in, one out' rule, to giant, echoing spaces where everything I needed was a mile away. But with a few simple DIY and styling hacks, I've always been able to make the most of these rooms and turn them into spaces where I enjoyed spending time. Sometimes it might be a challenge, but trust me, it's doable!
There are lots of ways to create a gorgeous kitchen that doesn't feel like a place where you simply slave away over a hot stove. It's important to develop a vision and then integrate functional, as well as beautiful, elements into the space.
LOCATION
Think about how you actually use your kitchen. Consider where the different activities take place and what needs to be close by to make those activities quicker and easier. Storing items close to where you use them is ideal.
STATIONS
Unless your kitchen is tiny, it's useful to set up a few stations that cater to the various activities that occur in different parts of the kitchen. For example, store the items you use for making tea and coffee on a tray near the kettle, or have a caddy with olive oil, salt and pepper near the stove. Creating stations is very simple, and they do make a difference to your daily life.
SEATING
In the past, the kitchen was more of a transitional space, but these days it's a place where people tend to gather and relax. It's essential, therefore, that there's a place for people to sit. It's worth considering adding a couple of stools, a bench or a table.
STORAGE
What's the point of a beautiful kitchen if you have nowhere to store everything? Having sufficient storage is essential and should be included in the form of drawers and cupboards. I love open shelving, but it only works if you have enough other storage – otherwise you risk your open shelving becoming overstuffed and messy.