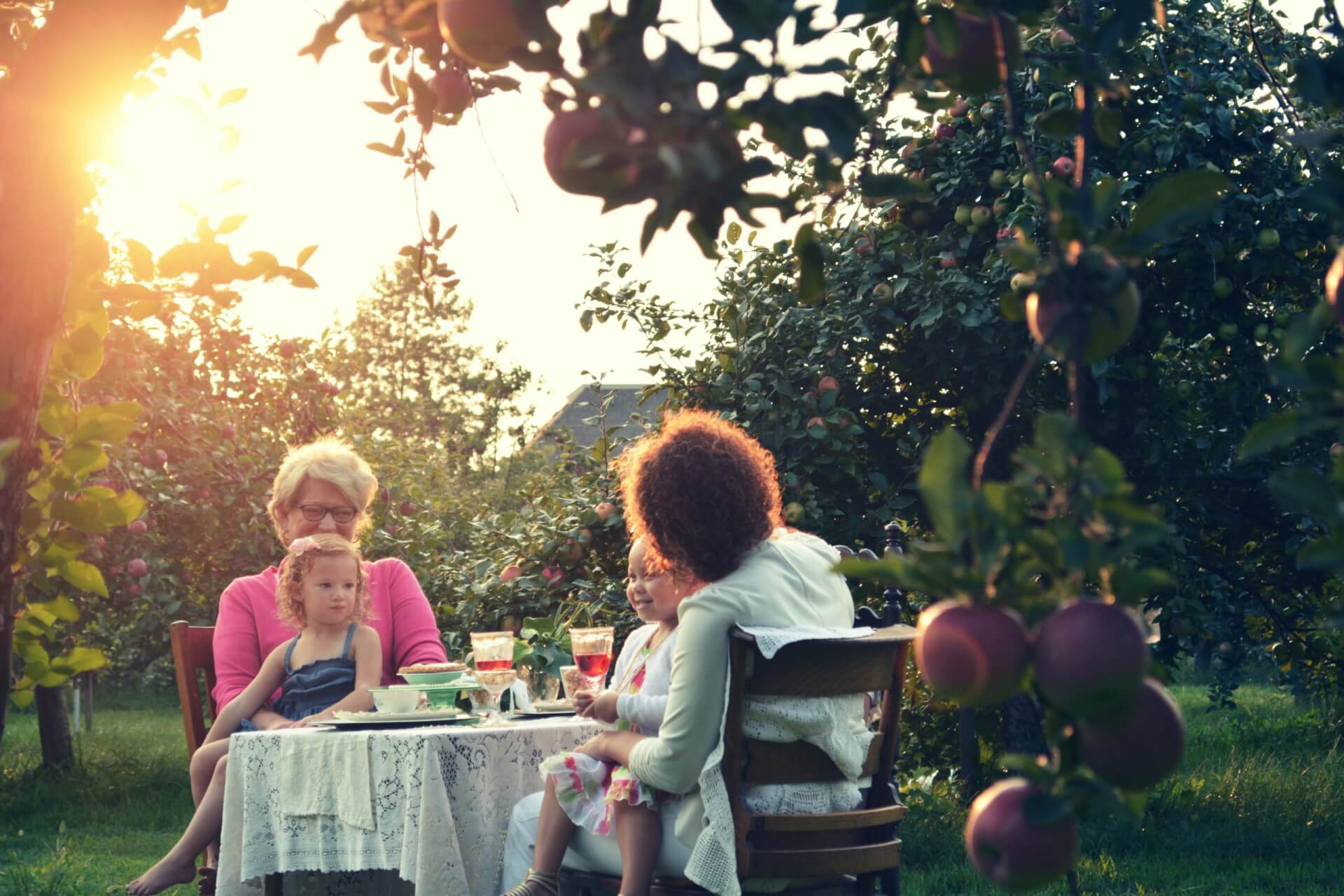 Reviving shared family mealtimes has the power to deepen connections and boost wellbeing.
The Sundays of my childhood were a deep, jubilant breath between weeks, full of the happy hubbub created when our small tribe came together. The clink and clatter of cutlery, the low hum of the coffee machine, and the familiar to-and-fro of my mum's and sister's voices in the kitchen. Dad and I boogying (badly) to the warm, folky punch of Van Morrison's Bright Side of the Road while we waited for croissants to crisp and turn golden in the oven. The air was soaked with the sweet, buttery aroma of the crescent-shaped pastries and morning sunlight drifted lazily through the living room windows.
Mum worked evenings, so we'd often only see her before school. Dad worked early mornings, so we'd often only have him of an evening. But, when we could, we'd connect over something as mundane as a baked good. Coffee brewed, breakfast juice poured, table set with preserves a-plenty, we would sit and savour our morning morsels. Shared together, amidst inane chatter and often snort-inducing (on my part) laughter, it was over food that the fabric of our family life was woven, sometimes mended, and frequently embellished.
Decline of the dinner table
In an age of ubiquitous busyness, our ability to savour a meal together feels diminished. For breakfast we might forsake a sitdown with our loved ones for a few sips of coffee, lukewarm after the ever-unpredictable antics of the morning. It might be a fight to get food in the bellies of miniature food critics, who have a hankering for yoghurt one day, only to passionately shun it the next. Tired and technology-dependent, in the evenings we're likely to turn away from each other and toward our screens instead. Television, laptop, smartphone, tablet. We'll sneak in an extra email, zone out to Netflix, or use those doggy do-gooders on Paw Patrol to placate kids during dinner.
Additionally, the frenetic pace of everyday life, conflicting schedules and a general sense of time poverty have many of us adopting diverse eating habits – that don't always coincide. Dr Paul Fieldhouse, a nutrition policy and research analyst, says that "Lack of time, work demands, busy social lives, scheduled activities – especially after-school activities for children – and increased opportunities for eating away from home are among the factors militating against the family meal." In fact, research suggests that Australians eat only half of their dinners at any kind of table. One project that surveyed families in the US found that around 40 percent of parents said they had more family dinners when they were children than they have with their own children now.
While the decline of the dinner table may have us feeling like bad eggs, it should give us food for thought. It might not be as easy as pie but making family mealtimes our bread and butter can positively impact our wellbeing – and put the icing on the cake of family life.
Food for the soul
For kids, family mealtimes are a source of brain food. Helping to develop knowledge, Dr Fieldhouse says that for young children especially, "'table talk' may be the main source of exposure to family conversation and the expression of thoughts, ideas and emotions."
Research has shown that mealtimes develop children's vocabulary more than being read aloud to. One study found that at the dinner table, young children learned 1,000 rare words – those not found on a list of 3,000 most common words – compared to only 143 learned from parents reading aloud to them.
"Through the exchange of stories, anecdotes and news, children learn about the adult world and the interests and attitudes of their parents, while adults get to learn about the interests and attitudes of their children's world," says Dr Fieldhouse. He also says that "At family mealtimes, parents know where their kids are; they can gauge their moods and needs, and uncover and help solve problems."
Other studies have made connections between frequent family dinners and academic performance in tweens and teens, an increase in healthy eating attitudes, as well as reducing high risk behaviours like binge drinking and violence. A New Zealand based study also found that families dining together frequently is strongly linked to positive moods in teenagers. It seems family meals really are food for the soul.
Building bonds
For anthropologists, the sharing of food has long been understood as a ritualised, symbolic gesture to enhance solidarity between recipients. Deborah Lupton, Australian sociologist, professor and researcher, explores the idea that food sharing is an essential component of kinship networks in all societies. In her research, Lupton found that the family meal has deep emotional and social significance for building bonds. When asked to write about food, participants in one of Lupton's studies wrote about emotional themes like happiness and belonging, suggesting that the childhood memories we form around food are actually linked to social relationships – rather than the food itself.
While this might seem like a lot of pressure to put on a plate of pasta, it's actually cause for celebration – food doesn't have to be fancy. As renowned food guru Nigella Lawson says, "You definitely shouldn't be persecuting yourself because you haven't got the time to cook a big meal every night." She aligns with what anthropologists have discovered: "The act of sitting down together is more important than what you are putting on the table."
We can approach mealtimes as an opportunity for some easygoing eats (see Mindful Parenting Issue 5), and perhaps use cooking as a way to decompress after a hectic day. "[Cooking] can be part of your routine of shaking off the world, giving you that feeling of 'I'm at home now'," says Nigella. "It's about the act… to have a few minutes where you take a pause from all the madness, and just chat, enjoy a meal, and connect." It's little wonder then that many of the memories collectively cherished by my family are based around meals. Picnics in the backyard, often before a rowdy game of bocce – yes, that seems like an oxymoron, but we're extremely competitive. Weeknight dinners when Dad would throw anything he could find into a wok, plate it up and tell us to dig in. The food might've had Gordon Ramsay in a rage (sorry Dad), but the love was always worth five stars. My sister, little more than four years old, announcing with full sass that she knew how to use one of the MasterFoods 'squeeze-mate' tomato sauce sachets on her own; with one lightning-fast squeeze from her chubby fingers, a spray of sauce launched into her face, leaving her looking like an extra from Carrie – as we fell about, faces pink and tears streaming, with uncontrollable laughter. These moments magically embedded themselves within the annals of our family history.
A mindful meal
Some researchers suggest that an emphasis on sitting down to a family meal can set unrealistic expectations and serve to increase parenting guilt. Jo Lindsay, Professor of Sociology at Monash University, says that "Sitting down together every night is an unreasonable public health instruction on how to live." "We've found the traditional sit-down dinner is not the reality we're seeing in most busy Australian households. Instead, families configure meals in a variety of practical ways to provide nourishment and manage time pressures and relationships," says Jo.
Of course, buying in to the notion that we need to eat as a family at every meal is bound to have us biting off more than we can chew. As Jo says, it's important to support diverse family food practices and eating arrangements, and ethnographic evidence shows that habits around food and eating vary across cultures and within communities.
But there's still something to be said for sharing food and making a meal of every moment. "Eating together, whatever and wherever that may be, can help build and strengthen bonds between family members," says Dr Fieldhouse. Breaking bread – or a croissant – isn't a magic recipe for the perfect family life, but the humble meal has the power to boost our wellbeing, bring us comfort, and create connections. By adopting a mindful approach and embracing opportunities for family meals we can create a space in which to slow down, share stories, snort with laughter, and forge memories that will last a lifetime.
Words by Erin McDonald