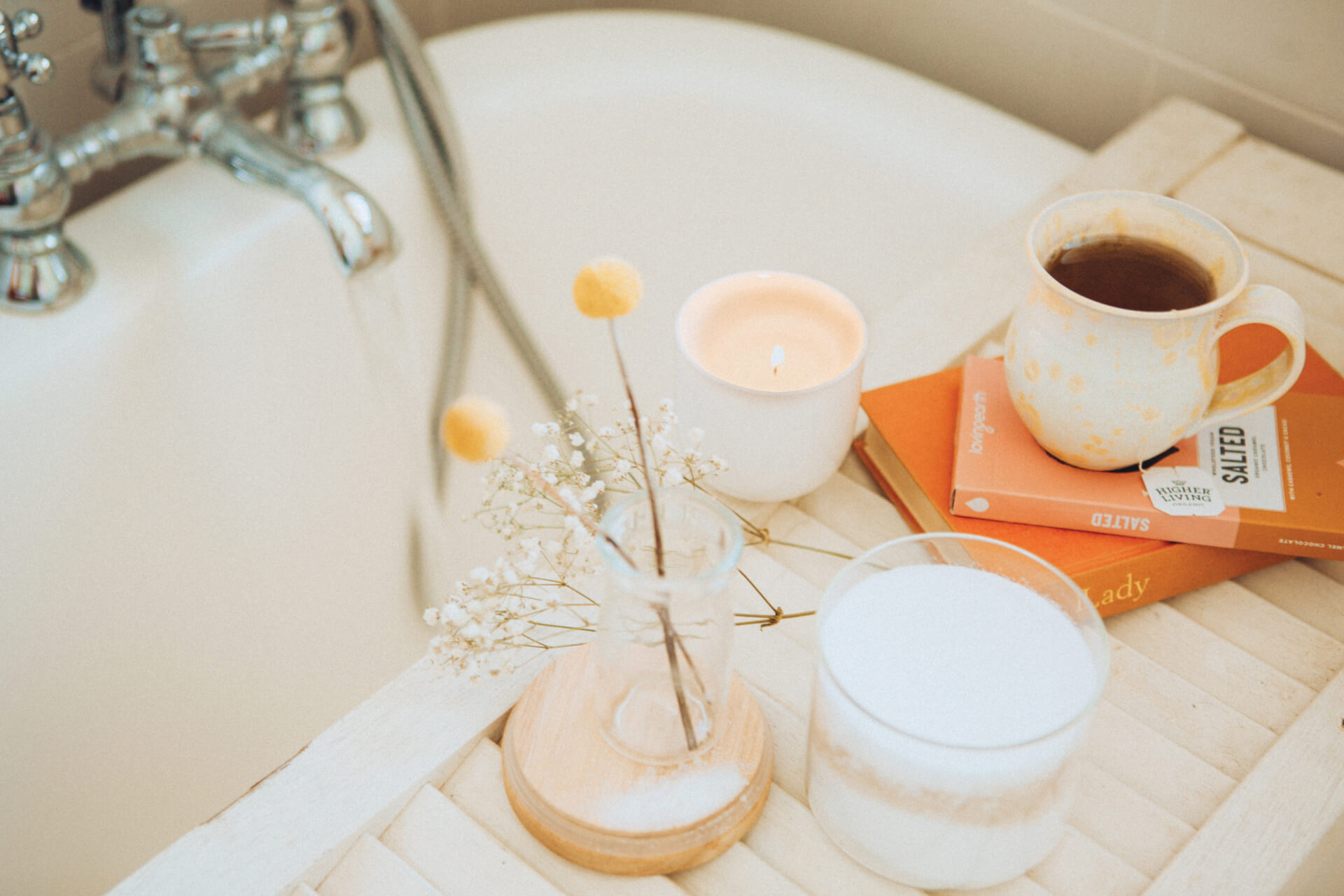 Self-care is a love language to your body and your mind, so pay heed to the changing tides.
There isn't a word in the modern wellness dictionary that has become more zeitgeisty than self-care. The concept of retreating to yourself to calm your body and mind is simple and profound. But for some reason, over the years it has become another marketing slogan used to sell us things: soaps, oils, spa sessions and self-help books. There is nothing inherently wrong in buying your way out of a postpartum slump by pampering yourself. But this isn't what self-care – in its purest and most potent form – should embody.
I'd argue that all mothers – and indeed, all humans – should think about self-care as interwoven with the practices of self-love. French philosopher Michel Foucault wrote that the ancient Greeks viewed self-care as integral to democracy, as it was a crucial part of care for others – it made people better citizens. But how do you love yourself dearly if you have another human – or humans – depending on you for everything: your breast milk, your touch, attention, soothing voice, advice, your cooking skills, your teachings, and all else that accompanies parenting?
To practise self-care in the most pragmatic and useful way, we may have to treat it as 'seasonal'. Just as your baby grows out of clothing, your needs for rejuvenation and mental recalibration change too. Because only if your cup is full, you're able to pour from it. Author, spiritual writer and wellness educator Lalah Delia explains it poignantly: "Self-care is a love language to the body. Sometimes, you need to get away, to come back and be better. Taking time for yourself in this way is sacred."
Self-care through the seasons
HEALING THE MOTHER
When you have a newborn baby:
Your body has just climbed Mount Everest; you gave birth to a new human. The simplest forms of rest and support are a luxury at this stage. Prioritise sleep. Napping is crucial, as is staying low, warm and well-fed. Don't overindulge in highly stimulating online entertainment, but rather feed off those low-key love hormones that buzz in your body.
In her book The First Forty Days: The Essential Art of Nourishing the New Mother, writer Heng Ou explains the Chinese postpartum tradition of Zuo Yue Zi ('sitting the month'). To restore her physical and mental health, the mother is expected to 'stay put': to cocoon with her newborn child for as many days as feels right (at least 40). Many Western mothers find these restoring practices helpful.
The best self-care gift for a new mother at this stage could be a silk eye mask, a coupon for hearty, ready-made meals, or a mother's helper to come to the house and deal with chores.
MINDING THE MOTHER
When your baby starts to get more independent, around six to 12 months after birth:
If sleep is the new mother's biggest pain point, at this season – when baby is walking and gaining independence – she may start to feel the pains of social alienation. For many mothers, adapting to caring for someone 24/7 can be challenging. Alexis Stickland, midwife, mother of three children and author of The Little Book of Self-Care for New Mums, calls it: "The moment you have to help yourself adjust to the new 'Mum identity'." So how do we do that?
Choose more time outside of the family, doing what has always brought you joy. For some, this can take the form of physical activity: walking, jogging, or joining a fitness club. Other mums take solace in social interactions: catching up with friends for coffee, a walk, dinner or wine. For some, the best self-care at this stage is solitude. Granted, homes with small kids are loud and messy. If your mind requires it, pencil in regular solo trips wherever your heart takes you.
This is also the perfect time to take up a regular and gentle self-care routine: breathing, yoga, jogging, journalling, using self-massage, or other gentle pursuits.
An ideal gift for a woman during this stage of motherhood is a yoga or fitness membership, meditation course, or any kind of short retreat-style holiday.
GUIDING THE MOTHER
When your family is bigger, you have more children, or your kids are growing into teenagers:
At this stage, most of us have plenty of things figured out. We know how to (sometimes imperfectly) juggle work, childcare, household chores and relationships. But this is also when the most significant changes in our lives occur: we're getting older, our parents become frail and our kids' wellbeing still depends solely on us. This balancing act can be emotionally tolling.
Our self-care practices at this juncture should reach our deepest, most soulful levels. An occasional spa trip won't give us the necessary peace of mind, just as one nourishing meal won't make us strong and healthy. It may be wise to start nurturing our spiritual side.
In her book, Self-Compassion for Parents: Nurture Your Child by Caring for Yourself, psychologist Susan M Pollak offers several mindfulness practices that prove a great coping strategy for parental overwhelm. She recommends practising "two mindful breaths of kindness" during any mundane daily activity: washing the dishes, doing laundry or cleaning. In a 2015 study at Florida State University, researchers found that participants who recited a brief passage about mindfulness before washing dishes felt more inspired and less nervous afterwards than people who read out basic dishwashing instructions.
If you want to spoil the mum of older kids, buy her an inspiring book, or take her on a day trip, just you and her, to somewhere nice and quiet.