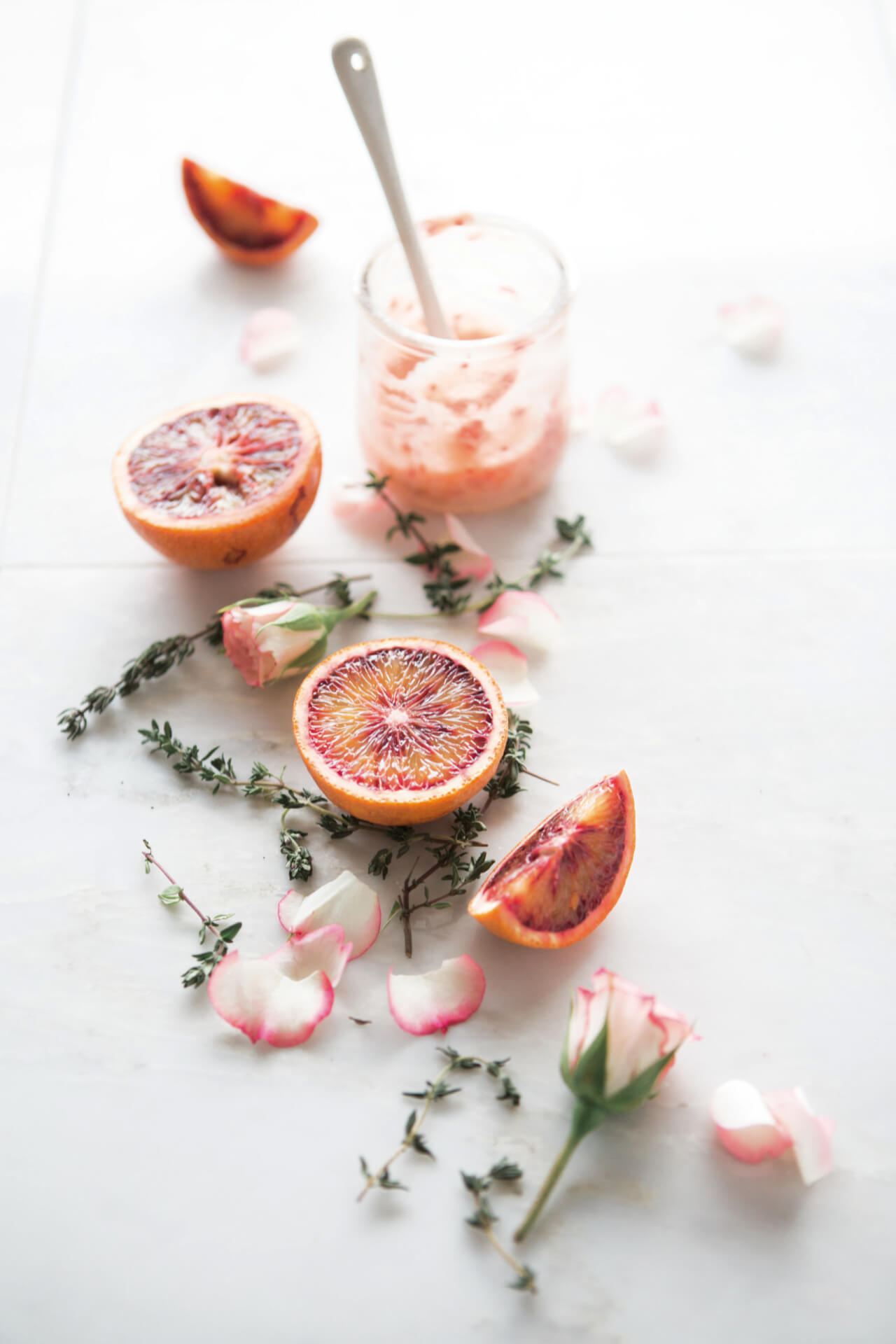 When it comes to beauty products, nature is the master chemist according to expert skin therapist, organic beauty coach, and eco-makeup artist, Jess Arnaudin.
Nature knows best. After all, it's the ultimate caregiver, nurturer and our place of sanctuary; the one we can trust and rely on, much like a mother. And certainly, when it comes to plant-based beauty recipes made with nature's roots, fruits, flowers, herbs, and nut and seed oils, we can trust their powerful phytochemicals. Yes, you may be surprised to discover there are chemicals in your organic plant-based products. In truth, all matter is made up of chemicals. Everything we breathe, see, touch, eat, and apply to our skin is chemical based. It's our job to make sure these are friendly, non-carcinogenic compounds that nourish the skin, rather than cause damage. That's where time-tested, hard-working plants come in.
Unrefined, organic, plant-powered skincare will transform your skin. When you experience this type of skin healing, you'll never want to go back to processed ingredients that are made synthetically and devoid of colour. Take vibrant sea buckthorn oil, for example. Just one bright-orange drop contains carotenoids, such as beta-carotene and lycopene, which protect against sun damage. It also contains vitamins A, C and E, and a generous mix of B vitamins and essential fatty acids, which balance dry skin, soothe burns and help to clear acne-prone skin. This is the intricate, powerful science of nature. While man-made synthetic skincare is not all inherently bad for your skin or health, I do believe nature to be the master chemist.
Think of your raw plant-based skincare as you would your food. We all know that filling our plates with fresh, organic produce is amazing for our health – the cells of our bodies basically do a happy dance with each vibrant bite! Then, imagine canned vegetables that have been collecting dust on a shelf at your grocery store. It's clear that freshly picked, nutrient-dense, locally sourced plant foods are much more nourishing and beneficial. The same concept applies to your skincare. Plants are highly intelligent – trust them.
Fortunately, there are many innovative alternatives on the market that you can incorporate into your everyday skincare and beauty regime. Following are Jess' four plant-based beauty recipes you can make at home with safe, simple ingredients you can trust.
SUMMER'S BOUNTY BEAUTY OIL
Makes 2 small 30ml dropper bottles
With an ingredient line-up this yummy, you'll wonder if it's for your skin or your picnic basket! These fresh fruit and seed oils renew from the outside in and leave skin glowing with health.
1½ teaspoons grapeseed oil
1½ teaspoons watermelon oil
1½ teaspoons red raspberry seed oil
1½ teaspoons avocado oil
4 drops rose otto essential oil
2 drops neroli essential oil
1 drop frankincense essential oil
Pour all of the oils (excluding essential oils) directly into a small glass dropper bottle.
Add the essential oils then seal the bottle and swirl gently to mix. It will keep for up to 12 months in a UV-protected bottle.
To use, press 5 drops into clean, damp skin morning and night. Use with a facial mist for the best results.
MOISTURE BOOST HYDRATING MIST
Makes 1 75ml spray bottle
This refreshing facial toner imparts a gorgeous glow and smells heavenly. Coconut water infused with hydrating glycerine and uplifting geranium is great to use post-gym, after your morning commute or any time your skin needs a boost. Store in the refrigerator during the warmer months and use as a cooling mist.
60ml (¼ cup) coconut water
1 teaspoon vegetable glycerine
10 drops vitamin E oil
5 drops geranium essential oil
Combine the ingredients in a glass spray bottle, shake well.
Mist onto clean skin before applying facial oil.
You can store in the refrigerator for up to 4 weeks.
COOLING HONEY, MELON & MINT MASK
Makes 2 masks
Skin-quenching ripe melon moisturises and softens skin, leaving it looking dewy and bright. Plus, melon is packed with beta-carotene and vitamin C to repair the skin barrier and encourage cellular turnover. Fresh mint has a herbal cooling effect and is wonderful for taking the heat and sensitivity out of breakouts and insect bites. For an extra refreshing treat, make this recipe with chilled ingredients so that it goes on cool. Your skin will feel radiant and renewed!
100g (½ cup) rock melon or honeydew melon, cubed
1 tablespoon coconut milk
1 teaspoon raw honey
3 fresh mint leaves
Combine all the ingredients in a blender or food processor and blend until smooth. Use immediately.
Apply a thick layer onto clean skin using fingertips.
Rinse with cool water and follow with a refreshing mist and facial oil. Leftovers can be kept in the refrigerator for 24 hours.
SIMPLE WHIPPED BODY BUTTER
Makes 1 325ml jar
Every DIY beauty enthusiast has at least one body butter concoction in their repertoire. Master this simple recipe and you'll have access to deeply nourishing hydration in minutes. It's also a gorgeous gift idea for mamas-to-be. Make a fragrance-free batch, as here, or get creative and add essential oils to the mix. Use the equal-part volume measurements and you'll be able to commit this recipe to memory forever.
70g (1/3 cup) shea butter
90ml (1/3 cup) sweet almond oil
90ml (1/3 cup) coconut oil
75g (1/3 cup) cocoa butter
Place the ingredients in a heat-safe bowl and set the bowl over a shallow pan of gently simmering water until the mixture has completely melted.
Remove from the heat and set aside until the mixture has partially hardened – you'll see it thicken and become opaque. (If you are using your own essential oils, this is the point to add them).
Whip the mixture with an electric handheld mixer or with a hand whisk until a fluffy whipped consistency is achieved. Store in an airtight glass jar for up to 12 months.