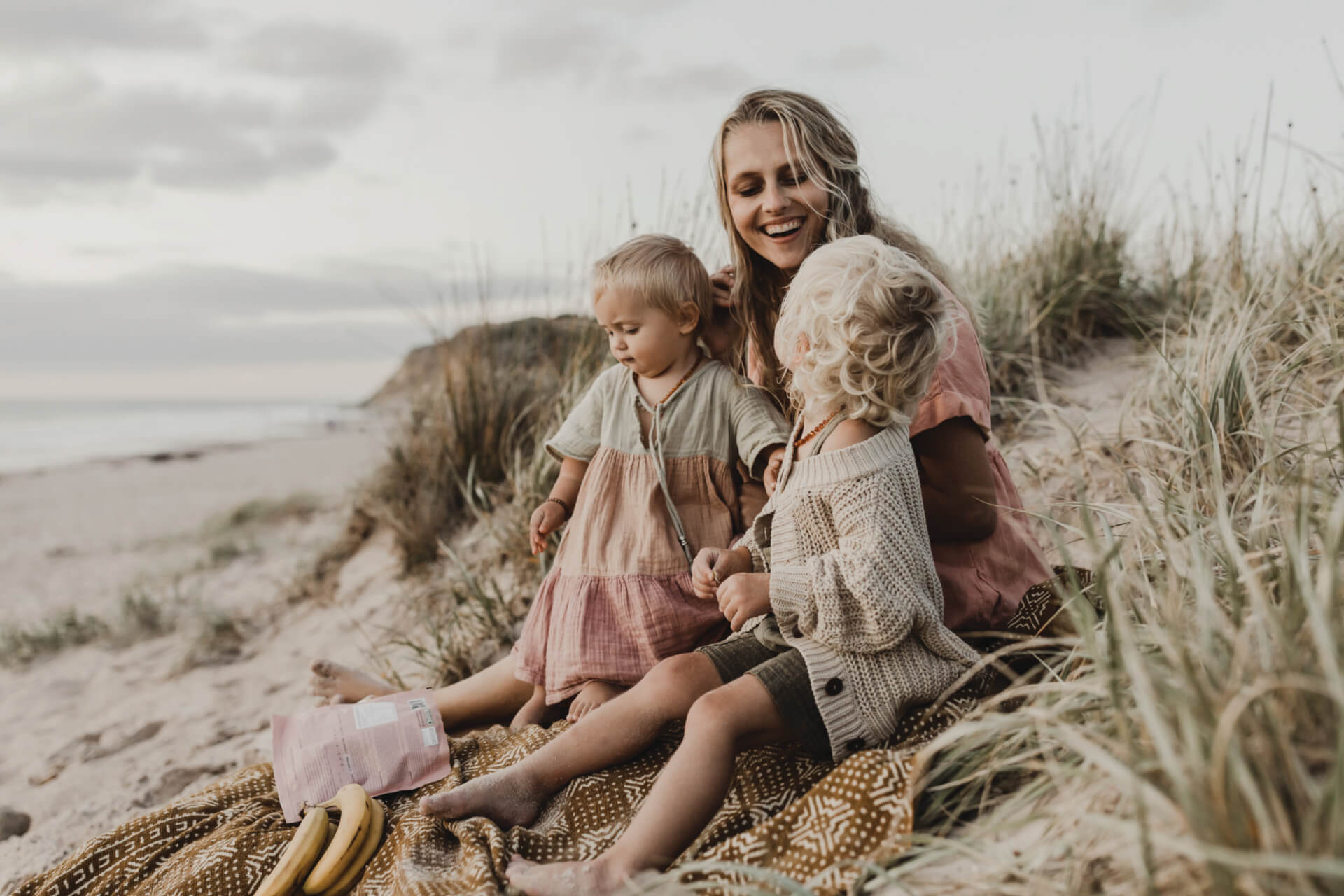 Teresa Palmer embraces her most profound role of all: motherhood.
Best known for rising to fame in Hollywood, the talented South Australian actress, Teresa Palmer, has graced our screens for many years. But the role she cherishes most in life is that of being a loving mother.
"It is my dream come true," says Teresa, "my favourite role – all I've ever wanted to be."
It's clear her family is her greatest passion in life, preferring the spiritual path of motherhood over anything else. As a mother to three children, Bodhi, Forest and Poet, and step-mother to Isaac (plus a little one on the way!), the joys and wonders of parenting are certainly not lost on Teresa. And it is her embracing an earth mama lifestyle – mothering with self-care, balance and compassion for all living things in mind – that has truly stirred our hearts. But "it's not all Zen all the time", she says. "Parenting comes with its challenges, but I wouldn't have it any other way."
With a parenting style she says is "cemented in conscious parenting", Teresa is of the 'meet their needs as they arise' school of thought, as it's what has worked best for her and her brood thus far. "This approach has led me to become a more mindful parent because it encourages you to be present and see each child as the curious, incredible, individual little being they are, and adapt your parenting accordingly."
The way in which these tender souls look at the world with such awe and wonder is always inspiring – their minds so young, so curious, so eager. And as a mother, it is Teresa's wish to foster this appreciation in her children and allow it to thrive as she nurtures them. "I teach them to be kind, compassionate and conscious little beings to everything around them; people they know, those they don't, Mother Nature and all sentient beings," she says.
And while Teresa takes time teaching her children the value of showing kindness and compassion to everything around them, she is learning just as many life lessons from them. "My children have taught me so much; mostly to be present, find joy in the little things and to recognise the fragility of life as a way to appreciate every moment."
And there have been many wonderful moments Teresa and her family have shared, one of which she remembers with incredible fondness, involving a campervan trip around the US with her husband, Mark, and their four young ones. "We had such a beautiful time as a family," she says. "We got to see and experience so much. In fact, it left such an impression on us that it inspired us to purchase an old school bus … and plan to do the same around Australia … we can't wait!"
There are plenty of other wondrous plans on the horizon for Teresa too. From exciting new project launches to the recent release of the US version of her book, The Zen Mama Guide To Finding Your Rhythm In Pregnancy, Birth, and Beyond, it's amazing how she balances it all with motherhood and acting. But the Zen mama always strives to consciously carve out time wherever and however she can.
"There's no perfect recipe," says Teresa. "It's all a juggle, and some seasons are jam-packed … other times, it's a little more relaxed and the days can be slower; it's all about adapting and doing the best you can." But no matter what, weekends are always spent with the family. Whether that's playing board games, adventuring out in nature or swimming in the pool on long, lazy days with friends. It's all about being mindful and cherishing every precious moment spent together. "We also regularly practise gratitude and meditation as a family," she says.
Carving out time for each other is essential to nourishing the growing relationships in your family and allowing them to thrive over time. It's also just as important, if not, more important, to find time for oneself, especially when constantly meeting the needs and responsibilities of work and family matters. As Teresa says, it's all about discovering what works best for you, when it works best for you. "It's just about meeting needs as they arise and figuring out what works best for you and your family in that moment."
Being a parent can be the most fulfilling role, and while Teresa wouldn't change it for the world, she still finds a way to find this elusive 'mama time' in order to recharge and treat herself. "Some days that might be 10 minutes, others, half an hour," she says. "My nightly bath is also a mindfulness practice for me – it allows me to unwind, have time to myself and listen to a podcast, meditate, journal … it's all about balance."
As a mum, Teresa recognises that her fellow mamas tend to fill up their partner's or children's cups of wellness before filling up their own, or forgetting to do so altogether. Acknowledging the pressures mums tend to place on themselves to 'do it all', Teresa wanted to create a way for all mamas out there to find some semblance of balance that little bit easier. That's where Lovewell comes in – her wellness brand that offers scrumptious shakes and serums to support all mothers and make them feel cared for. "As time-poor mums, we needed something to ensure our nutrition requirements were being met," says Teresa. "We wanted something easy, quick, and most of all, tasty that we could implement as part of our daily routines … thus Lovewell was born."
But Teresa's passion for wellness didn't start there at Lovewell; it's been a big part of her life since her formative years in Los Angeles in the US. And her journey to live a more conscious and healthy life has only grown and evolved, now weaved into her family's routine – often starting the day with a cup of Lovewell themselves. But perhaps the perfect recipe for a life well-nourished and well-balanced is a hint of manifestation, a drop of gratitude and a pinch of self-care. So long as you do it with family. "If you practise those three things, the rest all falls into place," says Teresa.
"As long as you're doing your best, you're doing great … real life is about wins and failures, ebbs and flows, juggling depending on what season of life you're in, and figuring it out as you go along."
Teresa's journey offers a powerful and uplifting outlook on mama life. Parenting can be hard, but it's unequivocally beautiful. To every mum doing their best: so long as you make the time, cherish every moment and love yourself well, like Teresa, you're bound to experience just as much warmth and abundance in your life.
This role of a lifetime extends to you as well.
Words by Sarah Webb
To find out more about Teresa and Lovewell, follow @teresapalmer and @lovewell.earth on Instagram.
Images by Carmen Yeates (Rose Grace Photography). To view more of Carmen's work, visit @rosegrace_photography on Instagram. Shot in Port Willunga, South Australia.