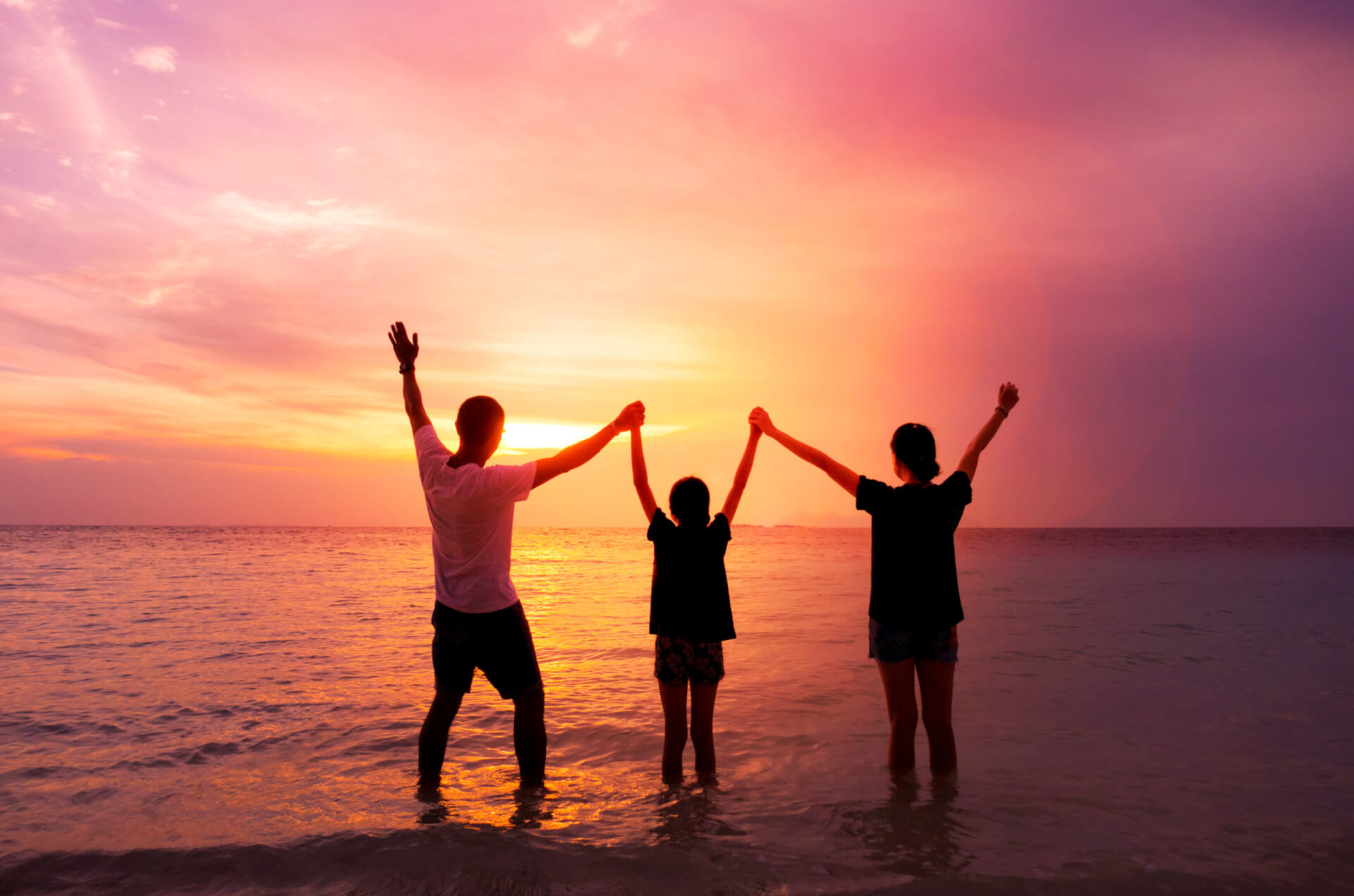 How can we make happy memories stick? Science suggests that making them 'firsts' could be the answer.
What was your child's first word? Whether last week or last decade, chances are, you remember.
'Firsts' stick in our minds. You probably also remember your first kiss, first job, first car. Firsts are new and exciting. This isn't coincidence, there's science behind it; a UK study revealed that 73 percent of vivid memories were either first-time experiences or unique events. Many psychologists believe that happy family memories are the building blocks to our children's sense of self, so making them novel or 'new' could be a great way to cement these moments in their long-term memory. So why does a first-time experience create such a long-lasting memory?
In his book The Art of Making Memories, happiness researcher Meik Wiking writes, "Firsts and changes of scene play an important role in organising autobiographical memory. If we want life to slow down, to make moments memorable and our lives unforgettable, we may want to remember to harness the power of firsts." His book also outlines research that suggests that people who store positive memories from childhood are generally happier and healthier, are less likely to develop mood disorders and are better able to cope with stress.
Kari Sutton has been a guidance counsellor and consultant for families for over 28 years. She's also a psychologist. Kari explains that family firsts don't need to be extravagant, costly or involve hours of planning. "There's lots of ways to bring in firsts that don't have to be expensive," says Kari. "It could be something as simple as your child's first time going to the hairdresser, or first time going ice-skating. It could be volunteering at an animal shelter or exploring local landmarks. It could be when you go grocery shopping, one of the kids gets to pick a different food that no one in the family has tried before and you figure out how to cook it together."
Creating meaningful memories that are positive and joyful could also be a way to bring families closer. Kari explains, "Because of our human nature, we remember negative experiences. We often say, 'we Teflon the good, and Velcro the bad'. That's because we have a negativity bias as humans. However, as parents, we can counteract that power by attending to the creation of positive memories. When there are positive experiences with loved ones and doing new things, they really do strengthen bonds of families."
Conquering new experiences can also give children the confidence to cope with obstacles through life and into adulthood. Annika Rose is a positive psychology specialist and wellbeing researcher. Annika counsels, "When you do things for the first time or you've gone beyond your comfort zone to do something different, all of your senses are on high alert. You're aware of 'How does this work?' 'Can I do this?' 'Is it safe?' You're processing it all very vividly. And those sorts of memories help you figure out who you are as a person."
According to Annika, because of our innate negativity bias, positive experiences need to be mindfully held in our awareness for longer than a negative experience. Annika says, "By giving extra attention to the good things that happen in our lives, we can savour them and transport them into our longer-term memory."
When doing something new together, there are little techniques you can use to prompt your child (and yourself) to be mindful and present in the moment. "Get them to be curious," explains Annika. "Ask, what they can they hear, taste, feel, see, smell. Move through the senses."
Linda deWilde-Moon lives in Katoomba, NSW with her husband and 11-year-old daughter, Angeline. Together, Linda and Angeline have tried different novel experiences including karaoke, card game nights, playing soccer, cycling to explore the local area, and watching Japanese animation films.
Two years ago, they took their first family campervanning trip in New Zealand in the hopes of building happy holiday memories. Linda says, "Angeline didn't want to go. When we were there, she was grumbling most of the time and wanted to go home… But the weird thing is now she looks back on it as a wonderful time. It taught me that to give kids happy memories sometimes you have to push them to try different things, things they might not want to do at the time."
But novel experiences don't need to involve an overseas trip, you don't even need to leave your town or own backyard. Rowena Mabbott is a Sydney-based mother of two sons, aged 13 and 11 years old. Building memories together and making these experiences new or novel is important to Rowena to bring the family closer together. Rowena says, "Each year, as a family, we sit down and talk about what we're working towards as a memory or an experience that we're trying to create together."
No matter what new activity they try, Rowena's family all get involved. Last year they did a high ropes course at Sydney's Taronga Zoo, took a trip to the theatre, and tried indoor skydiving. Rowena explains, "The deal is, we all have a go. It's creating memories together, even if all they remember is Mum feeling sick all the way home!"
One of their ongoing experiences was to 'visit' 26 countries, one for every letter of the alphabet. Each weekend they picked a country (starting with A for Argentina) and collectively spent the evening 'exploring' the world. The kids researched the country's culture using their Lonely Planet book, Rowena cooked a traditional recipe from the region, and her husband scoured Spotify for relevant music to set the scene.
Rowena feels these evenings, and all their unique experiences, bring the family a sense of connection. "With many children and early teens, there's a lot of wearing the hoody or headphones and not engaging with the family," says Rowena. "My eldest doesn't ever do that for these dinners; he's present, he's engaged. We're all talking about the food, asking, 'can you taste the different spices?' and sharing the experience together."
So, to give our children long-lasting happy memories, why not stop and ask 'How can I make an ordinary day or weekend, extraordinary?' Try exploring a different park in your neighbourhood, have a themed dinner, or instead of Netflix nights, why not play a board game (remember those!)? The opportunities for novel experiences as a family are endless because, as they say, there's a first time for everything.
Words by Jo Jukes