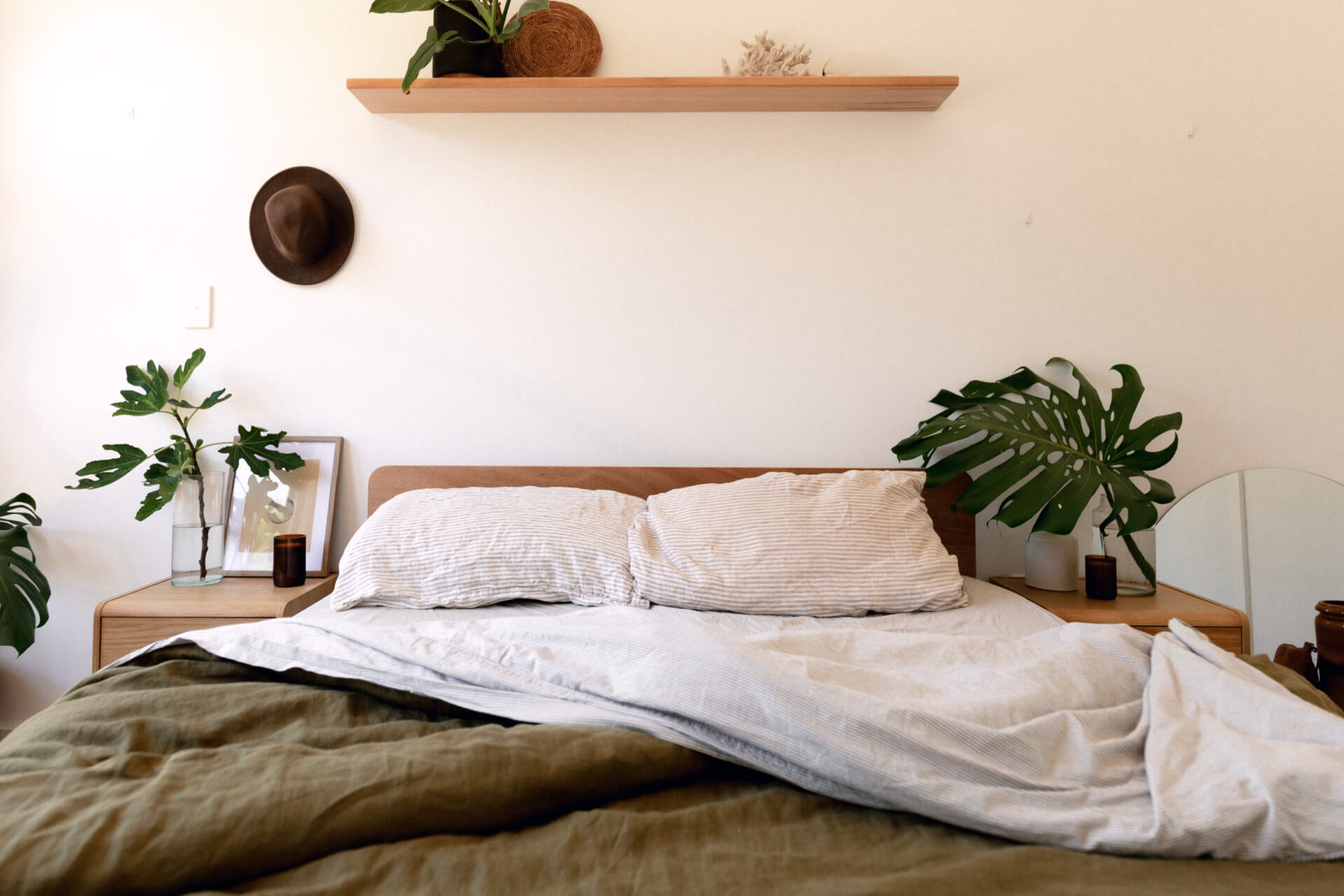 As a parent, it might be hard to get a full night's sleep, but when you do manage to get some much-needed shut eye, make sure you're giving yourself the best chance possible to get a quality sleep with the right mattress and bedroom products.
Parenting comes with countless challenges, many of which revolve around routines, juggling extra-curricular activities and balancing home and work life. But when sleep deprivation and broken sleep are thrown in the mix, it can take a huge toll on our mental and physical health. So, how can we help ourselves to fall asleep faster and sleep better? We spoke to Koala's mattress designers and sleep experts about their tricks to getting a quality night's sleep.
How much sleep should I be getting?
According to Koala's recent 'Comfy As' sleep research, the ideal amount of sleep for Australian adults is eight hours, with the average amount of sleep after a workday being seven hours*. However, the research showed that each individual had a five-and-a-half-hour sleep deficit per week, which is a total of 309 hours per year! With stress, lack of exercise, and family and work commitments keeping parents from getting better sleep, there's no more perfect time than now to work on improving your sleep environment, hygiene, and habits.
How can I fall asleep faster?
When your head hits the pillow at night, does your mind start to race trying to process the day and run through the schedule and to-do list for tomorrow? Well, you're not alone! According to the survey, over 54 percent of Australians take longer than 15 minutes to drift off to sleep and one in three (29 percent) take longer than 30 minutes to fall asleep, which sacrifices hours and hours of sleep each year.
Koala's research unveiled that the secret to better quality sleep is falling asleep faster. It's proven that taking the time to unwind and actively prepare yourself for bed will help you fall asleep faster and give you that better night's sleep that your body craves. So, how can we improve our sleep environment? "Although it's generally accepted that a quiet, dark environment helps you fall asleep faster, many of us still struggle with poor sleep quality," says Koala Product Manager, Stephanie Roberts-Baxter. "Small changes such as avoiding caffeine in the evenings and reducing screen time prior to bed are little things we can do to avoid poor sleep hygiene."
How do I find the perfect mattress?
Perhaps the most important factor in determining the quality of your sleep is your mattress, and finding the best mattress can be an overwhelming and daunting experience. But Koala Product Design Manager Alexandra Owen's advice is simple: pick a mattress that is not only comfortable but also incorporates calming features.
"For Koala's new mattress in a box range, we've chosen colours and patterns that enhance the Koala aesthetic by drawing on the unique land and culture we have here in Australia," says Alexandra. "We've referenced the Australian desert in our quilting design, and we've chosen textures and materials that are tactile and calming, while our neutral and dreamy colour palette reflects the Australian landscape."
Koala's latest mattress range features the brand-new Koala Mattress, the new Calm As Mattress and the new Soul Mate Mattress. Each feature incorporated into the range has been designed to help solve some of the common problems people experience when they sleep.
What effect can a mattress have on quality of sleep?
Essentially, the key to sleeping better is giving your body and mind the opportunity to unwind and relax on a good quality, comfortable, and supportive mattress.
"The right mattress can provide pressure relief and temperature regulation to help you achieve a deeper, more restful sleep," says Stephanie. The features in Koala's new range of mattresses support and enhance your sleep night after night, with technology that ensures you're comfortable and less likely to have interrupted sleep patterns.
"Tend to sleep hot? The COOLMAX® fibres in the sleep surface of our Calm As mattress can help you stay cool and dry for a better night's sleep," says Alexandra. "Need a little more support? The adaptive foam springs and bamboo charcoal memory foam layer in our Soul Mate mattress can help take some of the pressure off. Want something that's kind to the planet, as well as to your skin? The TENCEL™ Lyocell used in the new Koala Mattress has been produced with low ecological impact, as well as being breathable and smooth to the touch," she explains.
How do you know which mattress is best for you?
With bed sharing commonplace in many households, finding a mattress suitable for everyone can be a challenge, so rather than just purchasing a mattress and hoping for the best, it's important to be able to try a mattress first before committing to it.
"The way we sleep is as unique as we are, and the only way to truly determine if a mattress is right for you is by sleeping on it," says Stephanie. "It takes time for your body to adjust to a new mattress, and it can also take up to 72 hours for the mattress to recover fully after unboxing, which is why Koala gives you 120 nights to really put your new mattress to the test."
Better yet, the new Koala mattress range features an adjustable firmness layer, so you can rest assured knowing that your mattress can be customised to suit your needs.
"Koala's new mattress range is designed with a new Flippable Kloudcell™ Comfort Layer, meaning you can unzip and flip to whichever firmness feels right for you," explains Alexandra. "All three of our new mattresses have a 'firm' and a 'medium-firm' side, making it easier than ever to customise the way you sleep."
So, which side should you start with first? "We recommend giving the 'medium-firm' side a go first, noting that the comfort layer will firm up over time, so be sure to give each side a go for at least three nights before flipping," suggests Stephanie.
How do I choose a mattress that's ideal for my sleeping positions?
Whether you're a back sleeper, side sleeper, or you prefer to catch your z's on your tummy, Koala's range of new mattresses will bring you the ultimate comfort. "We've designed the new Koala mattress range to cater to all kinds of sleepers," says Stephanie. "The high density open-cell foam used in our Kloudcell™ Comfort Layer is designed to distribute your weight and relieve pressure, whether sleeping on your back or your side. The targeted zoning in all three mattresses ensures hips are supported to maintain a proper sleeping posture, while a softer support for your shoulders and legs helps with pressure relief to improve sleeping comfort," she explains.
Is it possible to buy a mattress that has less of an impact on the environment?
In short, yes! Koala's new mattress range is the first and only mattress range in Australia to be certified by Good Environmental Choice Australia (GECA). This means that their mattresses have been assessed by an independent, not-for-profit, multi-sector environmental certification program to meet a wide range of environmental, human health, and social impact criteria, so you can be assured that you're making a purchase that is better for your family and for the planet, too. Furthermore, their range has been created without the use of harmful or dangerous chemicals. "The foam used in our mattresses is also certified by CertiPUR-US meaning they have been manufactured without the use of ozone depleting chemicals, and have been tested for durability to ensure they will last for years to come," says Alexandra.
For more information about Koala's new mattress range and to read their mattress reviews, visit www.koala.com.
*This finding is supported by a 2016 University of Adelaide study which had the same finding.
This article is sponsored by Koala.